Dynafit Superlite 2.0 Binding
8 reviews
$449.95
In Stock & Ships Today
Dynafit calls the Superlite 2.0 a revolution instead of an evolution. If you like brakes then you might be inclined to agree, since the new version is the first race-weight binding with an (optional) integrated brake. It maintains the fully adjustable lateral-release of the original Superlite that prompted many skiers to start using race bindings for every day touring. With two versions of this binding available, each with a lateral release range of 5-10 or 6-12, Dynafit has created a lightweight, reliable binding that can accomodate a wide range of skiers. Please note that while the lateral releases can be adjusted, the vertical release remains fixed. Last but not least, Dynafit managed to include two risers (just rotate the heel 180º), and they updated the mounting pattern from three holes to a more stable 4-hole pattern.
Optional stopper system accepts optional brakes in 75, 90, and 105mm widths.
Lateral release can be adjusted between 5-10 or 6-12 to match your size & ability.
Two risers let you climb the steeps efficiently after rotating the heel piece.
Proven toe pieces design has both unlocked-skiing and locked-uphill modes.
4-hole mounting pattern offers more stability and hold than previous Superlites.
Optional adjustment plates available to work with multiple boots.
*** Brakes are not included and sold as an optional accessory.
Update 2019/20: Dynafit now calls this binding the Dynafit Superlite 175 Z10 / Z12 and are offering it with two release ranges, each being 5-10 and 6-12. They also updated the paint job, and now offer this binding in a nice yellow and black option.
Specifications
Weight
convert to ounces
181g
Weight (pair)
362g
Boot Compatibility
Tech
Brakes (mm)
Accessory 75, 90, 105
BSL Adjustment
Accessory plates
Riser Heights
2 + unofficial flat
Vertical Release
Fixed
Lateral Release
5-10 [Z10]
6-12 [Z12]
Crampon Ready
Yes, Removable
Specs Verified
Yes
Design
Materials
Forged 7075 aluminum, chromoly & stainless steel, high-strength synthetics
Skimo Co Says
Usage
Lightweight touring & mountaineering
Notes
Fixed vertical release
Bottom Line
Lightest binding w/ integrated brakes
Compare to other Lean Bindings
Questions & Reviews
Hey, have you ever see a broken U Pin before? I'm hoping just a issue with manufacturing on this one as seems to have sheered at the cutout. Bit concerned. Not purchased from you just asking here as you're open and have huge experience.
Answer this question:


Hello! A few questions for you:

(1) Dynafit mentions on its website for the Z12: "Its vertical release is fixed, but can be adjusted using a interchangeable U-spring (available separately)." I'm not seeing this part for sale on their website however. Do you have access to this optional U-spring?

(2) I see that there is an "unofficial flat". Does this unofficial setting seem to work well for folks, and does it cause the binding any harm to use frequently?

Thank you!
Rudy,
We do have the lighter U spring here
U spring
. It is the 175 Z6, which would be the 10 here.
The flat mode will not hurt the binding. The heel piece may rotate while in that mode as there is no indent to hold it in that position.
Thanks Jeff.. sorry I'm still a little confused! Am I reading this right in that the stock version of the Z12 has a vertical release of "Z8"?

Also, wondering if anyone out there has experience using this in the "unofficial flat" mode, and finds that the binding rotates around and gets in the way.. or if it works out just fine.

Thanks!
Answer this question:


Hi!
Is the BSL adjustment accessory plate available for purchase?
And when installed will it raise the heel to a point of needing a toe piece riser at all?
Thanks!
Answer this question:


Hello, is the front of the superlite binding identical at Z10 and Z12? or there are other springs. Different DIN.
Tomáš, thanks for reaching out. If you referring to the toes as the front of the binding then no there is no difference. The only difference is the release values in the heel.
Answer this question:


Hi! I just bought the Superlite 175s, but was given conflicting/incomplete information about the vertical release on them, and now I'm wondering if I made a mistake... Do you know what the vertical release value ends up being on these? I have the 5-10 DIN version, and I set my DIN to 6.5.
Thanks!
Hey Lina, the vertical spring for the Superlite 2.0 in the 5-10 model releases at around a 6.
Answer this question:


thank you. To replace the heel piece do I have to remount the heel piece or can I simply switch out the body of the binding?
Hi Thomas,
Unfortunately the Superlite heels do not come off of the baseplate like radical-style heels. To replace the heel piece you will indeed have to unmount the current heel and install the replacement.
I did remove the heel pieces from the baseplate.
Answer this question:


Will the new version of the heel piece sit on the same mount as the older green model?
Answer this question:


I flat abused these bindings. They are light. The two tower system is one of the better/lighter options in the market.

Here's the problem I had. I busted the toe on. Mental completely broke that connects to the toe. It was a cold day and it made for a long day back to the car skiing on one foot.

Price you pay for fast and light. But I haven't gone back to Dynafit bindings since.

Huge plus for skimo to help me with the warranty process to get me back on the slopes.
Comment on this review:


I bought a used pair of Blizzard Zero G 85s with these bindings. I've heard lots of horror stories about broken superlight 2.0 toe pieces. Which was doubly concerning to me as I was hoping to use these skis for mountaineering applications where a spontaneously broken toe would be a bummer. What would your thoughts be on replacing the toe with a radical toe? I was under the impression they were the same hole pattern, so maybe it wouldn't require a redrill? Also curious if you'd be worried about them pulling out if they were remounted in the same hole.
Hey Nick, you can definitely replace them with different toe pieces if you'd like! You may be able to avoid a redrill if you have a nearly identical boot sole length to what it had been mounted for, otherwise you may need to move the toe to have the recommended boot center position. You can reuse the same holes, just add wood glue, avoid cross threading, and don't tighten it super hard(this can cause the screw to become a "spinner").
Hi Nick, for what it's worth, I just checked our warranty files and we haven't seen any catastrophic toe failures.
Answer this question:


What size Torx bit is needed to adjust binding DIN? 15? 20?
Hi Dustin, Dynafit uses a T20 for the lateral RV adjustment.
Answer this question:


My superlite toe releases a lot when skinning, even locked. The "lock" barely engages the nub, even on the last click. Someone indicated there is a "shim" available to help this. Is that a part I can order?
Hi Jake,
Thanks for reaching out! The part you are referring to is in the
Dynafit Toe Levers & Locks
listing on our website. It is called the Superlite 2.0 Lock Stiffener. This part will help firm up your lock mechanism. Of note, this part is mounted under your toe piece, so you will need to unscrew it!
Answer this question:


Do you sell the crampon attachments for the superlite 175 z 12 ?
Answer this question:


Any comment on whether there is a skier weight limit on Speed Superlites? Or, do you have a recommendation for a binding appropriate for a true clydesdale? (asking for a friend, I'm a waif)
Hey Chris,

There isn't really a weight limit for the binding. Skier weight will however be one of the factors that determines the release value of the binding.

I encourage you to take a look at our binding finder (https://skimo.co/binding-finder). Once you fill that out you'll be able to pull your suggested release value out of the form, based on weight, skier type, age, and style. From there you can select either release value option!
Answer this question:


Is it possible to switch the fixed release springs, for instance from the 12 to the 10? I have multiple pairs of the 12's and am interested in switching them to the softer release. Thanks
Hey John, unfortunately the springs are not sold separately of the binding so in order to get the softer release you'll need to purchase the whole heel piece.
Answer this question:


I have the women's 2.0 (DIN 10 I guess) and the B&D riser plates on the heel pieces. When touring on flat terrain the heel lever wants to flop forward getting in the way. Isn't there a spring built into the binding to prevent this? Or is the B&D riser causing it to happen?
Hey Richard! I haven't heard of this specific issue, but I'll gladly try to brainstorm some solutions! I'm hearing that while you're skinning up on the medium riser height(heel pins pointed towards the ski's tail, metal heel riser up, boot heel resting on the plastic heel housing), the green metal heel riser will fall forward and put you in the taller riser setting. Is that accurate? Does it happen on both heel units, or just one? Send us a few photos and/or videos to "help@skimo.co" and we'll brainstorm potential solutions!
Answer this question:


Hi. My Superlite 2 binding was mounted for a 304mm BSL Dynafit boot. Now I have a 305mm Scarpa F1. However, despite the theoretical 1mm longer BSL, when I mount this F1 boot, the kiss/tech gap at the heel isn't 'reduced'. Instead, the gap is now 6mm instead of the 5.5mm( recommended) gap when I use the older Dynafit boot on it. Will it make a significant difference?thanks
Hey Dave, while it's hard to say what sort of difference this would make without testing your setup in our Jetbond machine, my sense is that with the stiffer vertical release values on the older Superlite 2.0s, you should be fine with a 0.5mm greater gap. Given that you have your Superlite heels on an adjustable track, however, feel free to make that 0.5mm adjustment and get yourself back to the ideal positioning.
Answer this question:


I'm 155lbs and usually ski with DIN 6. I have a ski with this black Superlite 2.0 set up for a 304mm BSL boot but recently changed to a Scarpa F1 that comes in at 305mm. Will I need to adjust the heel gap?
Hi Dave, quite likely. The effective tech length can be different than the BSL printed on the sole, so it's hard to say until you put the new boot in. And then once you do, there is a wide array of opinions on what constitutes "close enough". We like to be very precise with gapping as it can affect the release/retention.

BTW, your black Superlite likely tests higher than your desired value in forward release.
Answer this question:


I have been using dynafit bindings in the backcountry for over a decade now and I am pretty loyal to this brand. It has served me well in many no-fall situations. However, this is the lightest weight binding I've owned. Initially I was hesitant to ski aggressively with these. I played around with the din setting quite a bit and have found that they are very precise. I am now ripping confidently through creek beds and horrendous sastrugi. They don't pre-release on me even when set to a lower DIN. On the other hand when I stuff a tip and need them to release they do. Its amazing how this technology has advanced. I have them mounted on a pair of 188cm Beast 108's and I am looking forward to confidently climbing and skiing some bigger lines this spring.
Comment on this review: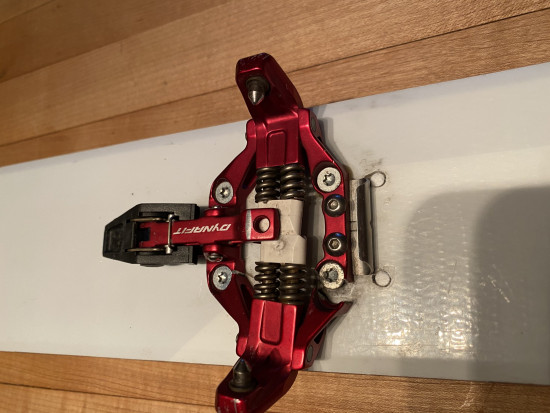 Do you sell the Dynafit Speed Race binding separately? I just need a toe.
Answer this question:


Howdy, It looks like the Superlite 2- Z series has a beefed up toe around the toe screws. Can you confirm this? I have had a problem breaking the toe pieces at the screw on the superlite and superlite 2.o versions. The 2.0 had more beef around the screw but it was not enough. Also does the newly announced lifetime warranty apply to the superlite 2.0 Z series?
Hey Brad, you're right that the current product iteration does include a slightly thicker baseplate which may resolve your previous issue. You're correct that the Lifetime Warranty applies to all bindings sold in model year 2019-20 and beyond.
Answer this question:


Earn store credit by writing reviews. Learn more.

Model: TLT Superlite 2.0