Atomic Backland Pure Binding
4 reviews
$499.95
In Stock & Ships Today
Simple, capable, and user-friendly. The Backland Pure Binding has a combination of features that folks have been eager to see for a long time. Hauling around excess weight in an overly complicated binding isn't anybody's favorite activity, and Atomic is here to simplify things. The toe piece screams "work smarter, not harder", utilizing a long lever to increase leverage during transitions. Naturally, it offers the efficiency of a tech binding on the uphill. Socket-clearing toe pins help clear out ice and debris. A patented step-in aid helps guide the boot into the binding. An integrated Dynafit-style crampon receptor minimizes additional parts to lose, break, or buy. In a word: perfect. The heel piece sits on a threaded adjustment track to accommodate multiple boots so your jealous friends can take a spin. Turn the heel piece 90° for a flat mode to make long approaches friendlier. Two risers flip down so no-matter the terrain, you'll be at an efficient climbing angle. Best of all, you have your choice of three release settings by means of a spring swap. Simply unscrew the spring cartridge and replace it with the men's, women's, or expert springs included in the box. This uniquely changes both the lateral and vertical release values. The Atomic Backland Pure is a capable binding that suits just about every backcountry skier's fancy.
Includes three different lateral & vertical release springs: men's, women's, and expert.
Patented Step-In Aid makes enables you to put your skis on with your eyes closed.
Three total riser heights include a flat mode and two beautifully machined lifters.
A 30mm adjustment track accommodates your beef boot and your race boot.
The leash (+28g) can be used to measure the heel gap for in-the-field adjustment.
If you decide to add brakes later, you can. Alternately, buy them together at a discount.
Note: This binding accepts both Plum and Dynafit crampons, though with the latter the included crampon keeper clip must be used to prevent any lateral movement during use.
Update 2018/19: Just a new "gunmetal" grey color, the Backland stays the same otherwise.
Update 2020/21: Atomic renamed the Backland Tour to Backland Pure to further differentiate it from the version with brakes.
Specifications
Weight
convert to ounces
288g
Weight (pair)
576g
Boot Compatibility
Tech
Brakes
No
BSL Adjustment
30mm
Riser Heights
2 + flat
Vertical Release
Choice of mens, womens, or expert
Lateral Release
Choice of mens, womens, or expert
Crampon Ready
Yes
Specs Verified
yes
Design
Materials
Aluminum, plastic
Skimo Co Says
Usage
Touring
Notes
Leash included doubles as gap tool
Bottom Line
Wonderfully crafted stripped-down touring binding
Compare to other Lean Bindings
Questions & Reviews
I'm very happy with this binding. It is a bit heavier than some of the other options I was considering. But it seems the small bit of extra weight makes a big difference in function and durability. I've broken two pairs of ATK bindings, but I do not have any concerns with these. So much so that I bring them to the resort (they adjust easily between my downhill boots and my backcountry boots). And I love transitioning with just lifting the flap off the pins without all the bending over and twisting. Lift flap, strip skins, and go. Lastly, I typically am an RV/DIN = 7. But I've been using the 'womens' RV6 spring with no problems and no prereleases even in heavy mank.
Comment on this review:


Atomic's website claims "weighing in at just 305g per pair with the included leash"

What am I missing?
Hi Justin, they must have meant to type per side?
Answer this question:


Any idea when these will re stock? Thanks!
Hi Tristan, a lot of these are headed this way but with the port situation we are leery of making a date promise (they are already late). We'll have them before the BC ski season starts in earnest.
hey we're getting 6" tomorrow night
Answer this question:


One of the reviewers (John B)mentioned a loosening of the risers. I have been skiing these and I noticed the risers on one ski initially started spinning rather freely. upon further inspection I noticed that the riser moved up and down a little (1/8th inch or so). At first I thought I could live with it. Then, the other day I inspected, and I noticed that, not only was the riser moving and rotating, but the actually heelpiece was moving up and down off the plate about an 1/8th inch. As I was checking out the play, out popped a little tiny pin, about 3/8th inch long and maybe a 32nd inch in diameter. Needless to say, I'm not skiing them anymore. Has anyone else had a similar problem? Help me!
Hey Eli,

Uh oh! Would you mind sending us some photos to help@skimo.co?
Answer this question:


I came to these bindings after skiing a decade on Dynafit Verticals and these ski much better, likely due to the decreased ramp angle/pin height. For the uphill, there is some significant weight savings as well and I find flapper riser to be super easy while on the go and haven't noticed any loosening as some have mentioned. The adjustability allows me to ski my light touring boots or my beefier technical. Pretty sweet all around.
Comment on this review:


Is this the same ending as backland tour w/ brake?... only w/o the brake?
How does leash weight compare to brakes weight?
If I get braked version, my ski is 101 underfoot. What brake size is best?
Pete, Yes these are identical to the Atomic/ Salomon with brakes. The pair of leashes are about 40g. The Pure weigh 576g and with brakes - 790g [90mm]. So still a good bit lighter without brakes.
The 100mm will easily accommodate your 101mm waist ski.
Answer this question:


Are these bindings and the Salomon mtn lab the same binding? I'm looking for a binding for a pair of atomic backhand 107 that I just purchased and am doing some comparisons. Any recommendations? Thanks!
Hi Andy, yes these are the same as the Salomon MTN (no "lab") binding. We recommend bindings based on the skier as much as the ski, so for a personal recommendation, please visit our
binding finder
. Without knowing more, it seems OK!
Answer this question:


I'm passing by late January and hoping to pick up a pair of these from you guys. To mount them, I'm looking at Binding Freedom inserts. Which screws/screw length should I order ? I'm guessing POZI-FLATHEAD M5 / 12mm but that is just an educated guess?
Anthony, we have the set of screws for this binding in Quiver killers-
quiver
. Not sure if they are the same for Binding freedoms.
Answer this question: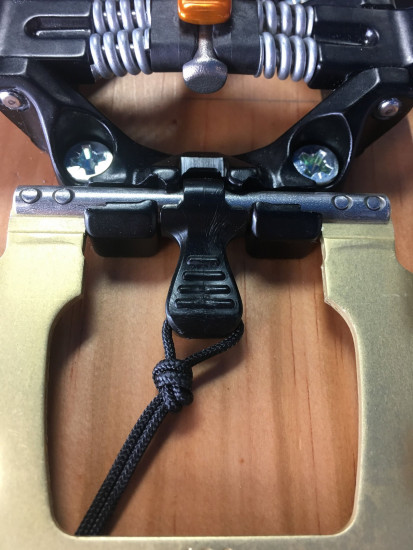 Here's a picture of the Dynafit crampon keeper installed. It'll save the crampon and binding from marring each other up by keeping it centered, otherwise it has the potential to slide back and forth when lifted above ~45°.
Reply to this comment:


Hi - i bought a set of these on Lisa on a whim. They have brakes. No leash, no extra pins. How do I check which pins I have and can I get different ones from you? Also, is there something you can recommend that approximates the 4 mm heel gap spce checker as I don't have a leash? Thanks
Hi Al T, while we do not have spare springs available for sale, you can check to see which spring is on your bindings by looking on the underside. It will say Men, Women, or Exp depending on which spring is installed. You can get away with using a 4mm hex wrench with one flat side against he binding and the other flat side against the boot for a gap tool.
Answer this question: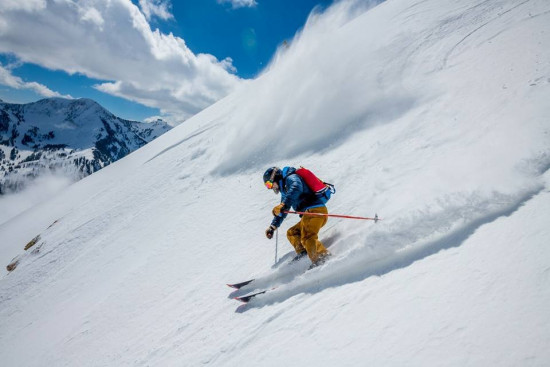 These bindings have provided me with absolutely 100% reliable retention over hard, chunky, icy conditions, and when bending even stiff fat skis at high edge angles.

I am 5'7" 170lbs and have a pair mounted to a 177cm 95 underfoot ski, and another pair mounted to a 184cm 118 underfoot ski. Unless in absolutely severe consequence terrain, I ski with the toe pieces in ski mode and use the Men's rear spring. I have never pre-released from either toe or heel.

The binding also comes with a lighter "woman's" spring and a heavier "advanced" spring which are simple to swap.

I greatly value the low ramp angle between the toe and heel pieces of this binding for my style of skiing.

Ice-buildup under the toe piece is extremely rare, and cleared in mere seconds by simply moving the lever into walk mode once or twice.

Heel piece is easy to rotate with skis on, and rotates independent from the risers; which are themselves easy to flip with a ski pole.
I skied pretty hard on this binding also. I am 190 lbs and have them on a pair of 182 Atomic Backland 95s. Also use only the Men's spring.
Resort skied on them in Val Thorens, Les 3 Vallees with friends for a week in March. They are a great carving setup, with my Maestrale RS. A perfect 1/2 resort/ touring setup for Yurp.. Skied quite a bit with long off-piste traverses after a big storm too.
Never had any pre-release, and I always kept the toe in ski mode, except when climbing.
Mine are mounted with the ski brakes.
Comment on this review:


Are mounting screws (the entire set) available for purchase for these bindings? Thanks.
Answer this question:


Love these bindings! Have over 30 days so far on it and the identical Salomon version. They have everything you need in an all-purpose, day-in day-out ski touring binding: light, very user friendly, good retention, and (so far) durable. I'm a somewhat 190 pound aggressive skier and have been using the "man" spring and the retention has been good. If I'm touring in soft snow I can tour with the toe unlocked. You can easily rotate the heel piece from tour to ski mode with a push from a pole grip, or leave the pins forward and cover with the heel riser if there's no need for a flat mode. They have a nice low ramp angle that can be further reduced by omitting the plastic heel plate. Highly recommended!
Comment on this review:


As I understand it, to add the brake one needs to remove the heel piece, replace the bottom plate with the one that comes with the brake and put the new heel piece on.

So I have the idea of using quiver killers to make it easy to remove and reinstall the heel piece whenever you want to.
Any reason that would not work? And you could guys install things for me that way?
Hi Eric,
Yep! You got it. The version that ships with brakes comes with a brake-less base plate. No reason that quiver killers wouldn't work. A few minutes ago we debuted our
Atomic Backland Quiver Killer Kit
and our tech Eric would love to install them for you! Pricing on installation is
here
.
Oh, cool! So I don't have to buy the brakeless version + brake. Does the with-brakes version also come with the rather nice leash, which doubles as a heel-gap checker?
Hi Eric, unfortunately the braked version does not come with the leashes. We plan on making those available separately, but we don't have them yet. Note they are on the expensive side when sold separately.
The leashes are 4mm thick, kind of heavy at 25 gm each. They also can be used to set the 4mm gap between heel of your boot and the binding, for proper function. I will replace mine with the ATK leashes at some point.

I picked up a set of the Salomon MTN binding in France in March. Now mounted on my Backland 95 skis.
Answer this question:


Earn store credit by writing reviews. Learn more.

Model: Backland Tour
UPC: 0887445243380